EDITED TO ADD
: This card made the top 5 at MDUC!! Wo hoo thank you gals!!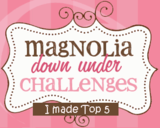 Happy Monday my dear friends!
I hope you had a wonderful weekend, and a good start to a new week. I had a busy, busy week, and I have no finished cards.. am late lso for our BnW Challenge! Yikes!!
But as I was checking some challenges I remembered that I have a Magnolia card that I never shared with you. I had sent it for the Magnolia Ink Magazine, but it didn't make the cut.
Anyways, it can make the
Just Magnolia challenge
, that this week want any sentiment on the card, and
The Magnolia Down Under Challen
ge, which want the following colours on our creations: Orange, Pink, Green, Brown and Blue. If you look closely you will all find them there.
Some are more obvious than others, but I have each one of them there :)I will also enter
Stampin for the weekend
, as it is an open challenge! Yay! :)
I'm off to make my BnW Creation. Thank you for swinging by my blog today. I'm so happy when you do so! Please let me know you've been here, even Tilda will dance with joy if you do :)
Have a wonderful week, and please.. somebody send some rain and fresh air my way!!!!
Hugs and smiles!!
Rosette